Skip to Content
Utility Tree Solutions in Orlando, FL
Innovative, Expert Tree Solutions
A Budget Tree Service, Inc.'s innovative, expert solutions are designed to aid utility providers with a range of reliable services, from vegetation or asset management to environmental solutions, utility line clearance, and more. Our mission is to optimize safety, discover cost efficiency, achieve compliance, provide unrivaled response time, and enhance customer satisfaction.
Vegetation Management Consulting
We can help reduce the trees and vegetation on your right-of-way with minimal risk of conflict, promoting safe and efficient work. Our service includes work planning, program evaluations, landowner notification, and systems reviews. We offer compliance reports and documentation, leading technology solutions, and management programs.
Asset Management Consulting
We provide reliable and cost-effective asset management solutions to the utility industry. Through our extensive experience, we provide a variety of innovative technologies and processes that help our clients improve their efficiency and effectiveness. We offer joint-use pole management and inventory and verification services using a customized solution that is designed to meet your exact requirements.
Utility Environmental Solutions
We provide proactive utility environmental solutions. Our services include habitat restoration, wetland delineation, civil and water resource engineering, agency coordination, permitting, compliance, and inspection. We prioritize safety and efficiency while providing sustainable, quality solutions that help the utility industry navigate the challenges of natural resources.
Utility Line Clearance
We provide transmission and distribution right-of-way clearance, utility forestry consulting, and manual, mechanical, or herbicide applications for vegetation management. Our experts help clients identify their goals and provide tailored solutions to achieve them.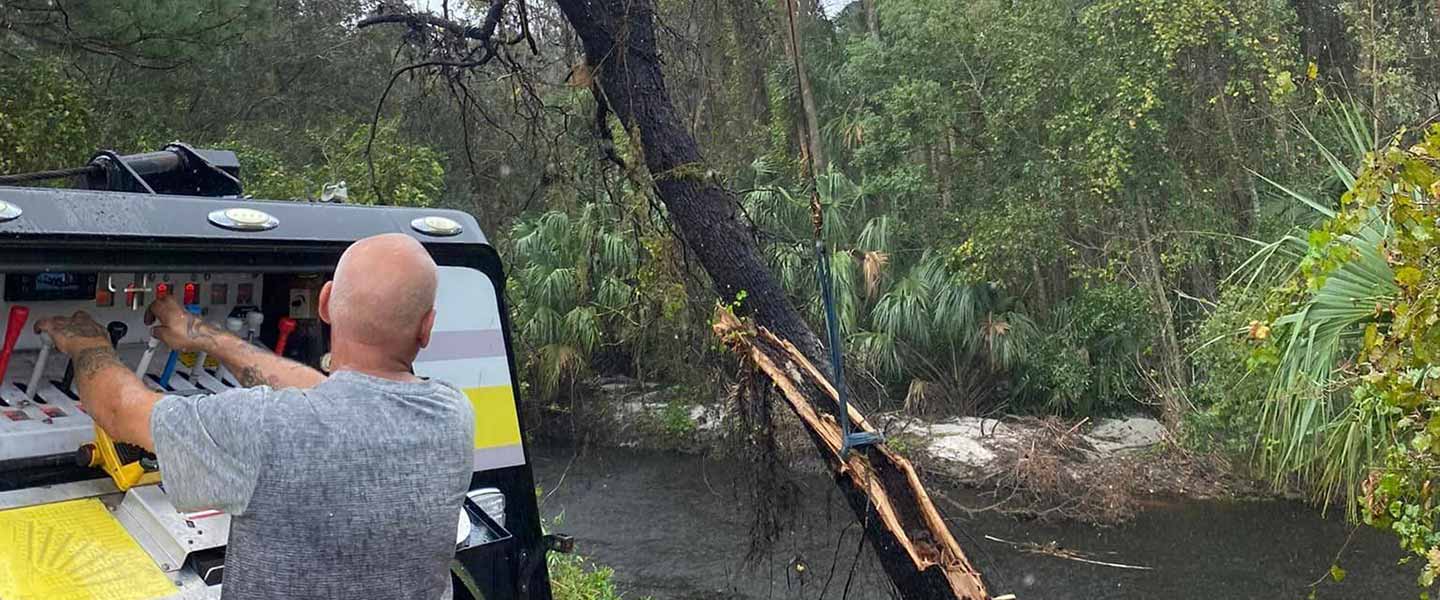 Storm Response and Natural Disaster Recovery
Orlando is no stranger to severe storms and natural disasters. When these events strike, utility companies can rely on A Budget Tree Service, Inc. to immediately dispatch reliable and efficient recovery experts. Our storm response and natural disaster recovery services include field inspections to assess compliance and safety, damage evaluations, and data collection.
Communications Construction
A Budget Tree Service, Inc. offers industry-leading communications construction services. Our innovative services include under- and above-ground fiber installation, new line construction, infrastructure enhancements, and cable maintenance.
Key Benefits of Our Utility Tree Services
Our experienced tree safety professionals and ISA Certified Arborists are familiar with the latest regulations and changes affecting the electric utility industry. Our innovative solutions enable our experts to take on complex projects and provide customers with the necessary project and program management tools they need to make informed decisions.
Advantages for Homeowners & Their Trees
Our innovative utility tree services provide homeowners with several key benefits, as we work diligently to maintain the health of their tree, the safety of their family and property, and peace of mind resulting from our sustainable solutions.
Contact Us to Discuss Utility Tree Solutions
A Budget Tree Service, Inc. is available to help utility providers navigate a range of tree utility services, from utility line clearance to storm response and more. For more information on our services, contact our experts today.
Making Neighborhoods Beautiful One Tree at a Time