Skip to Content
Tree Trimming and Tree Pruning in Orlando, FL
No tree is too tall or branch too large for our tree pruning service.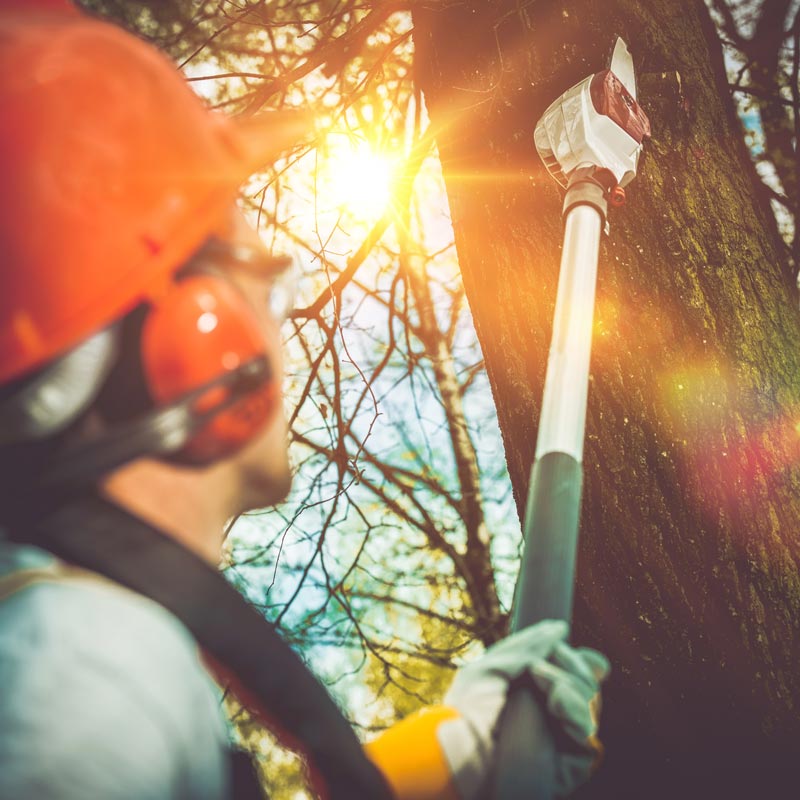 The Importance of Tree Trimming
One of the most obvious reasons to participate in regular tree trimming is to maintain the tree's appearance, but there are so many other benefits to take into consideration. Overgrown trees often contain dead or dying branches, which may become dangerous to the health of your family or the stability of your power lines. Removing these branches before they break reduces those risks and also prevents further decay. Tree cutting also improves the structure of the tree by preventing the growth of weak branches and increasing sun exposure and air circulation throughout the tree and the underlying landscape.
Trust a Certified Arborist
Tree pruning is one of the most important landscaping tasks. Not only does pruning improve the aesthetic appearance, but it also keeps the tree healthy and encourages growth. However, tree trimming is not something you should attempt on your own. Poor pruning techniques can kill a tree, leaving wounds that never close and making the tree vulnerable to disease and decay. Only certified arborists like those found at A Budget Tree Service, Inc know which branches to cut to maximize your tree's potential. We specialize in a variety of tree cutting services such as dead wooding, thinning, lower limb raising, and crown reducing. By scheduling regular tree services in Central Florida, you can ensure that your trees look great for as long as possible.
At A Budget Tree Service, Inc, our expert arborists have the knowledge and skills to handle all your tree pruning needs. After a full evaluation, we will map out a detailed plan to help your trees thrive before removing the necessary branches. Once the tree cutting is completed to your satisfaction, we will haul away the limbs and leave the site looking great. This work is tricky, dangerous, and time-consuming, so why not let a team of professionals handle everything for you?
Common benefits of tree pruning include:
Clearing away dead and dying branches
Removing dead-weight that weakens the tree
Creating a sculpted look
Discouraging pests, fungus, and tree diseases from spreading
Encouraging new growth
Preventing trees from affecting power lines or homes
Certified and Professional Team
When it comes to tree trimming, the knowledgeable and friendly staff at A Budget Tree Service, Inc knows how to make your trees look their very best. Our certified arborists are licensed and insured with over 30 years of experience in the field. As active members of the ISA, we have been serving the Winter Springs community since 1982, building up a fantastic reputation for reliability and professionalism. Keeping trees looking beautiful in Seminole, Orange, Osceola, Volusia, and Brevard Counties is our main priority, and you can always count on us to do the job right.
Contact us at 407-327-2520 to schedule a free estimate or to arrange pruning services.
Making Neighborhoods Beautiful One Tree at a Time