Skip to Content
About A Budget Tree Service
Complete Tree Services in Orlando, FL
We're Your Tree Care Experts in Central Florida
Trees are a beautiful addition to any yard, but they need proper care in order to thrive. With the right care, your trees will stay strong, healthy, and beautiful for years to come, enhancing your home and improving your curb appeal. A Budget Tree Services is here to provide the care your trees require. While our primary goal is always to preserve trees, we understand that sometimes they must be removed for safety reasons. That's why we offer both tree pruning and removal services in Winter Park and Winter Springs, FL. We've been in business since 1982, making the neighborhoods of Central Florida beautiful, one tree at a time. If you have a tree on your property that requires attention, be sure to contact us today to schedule an appointment.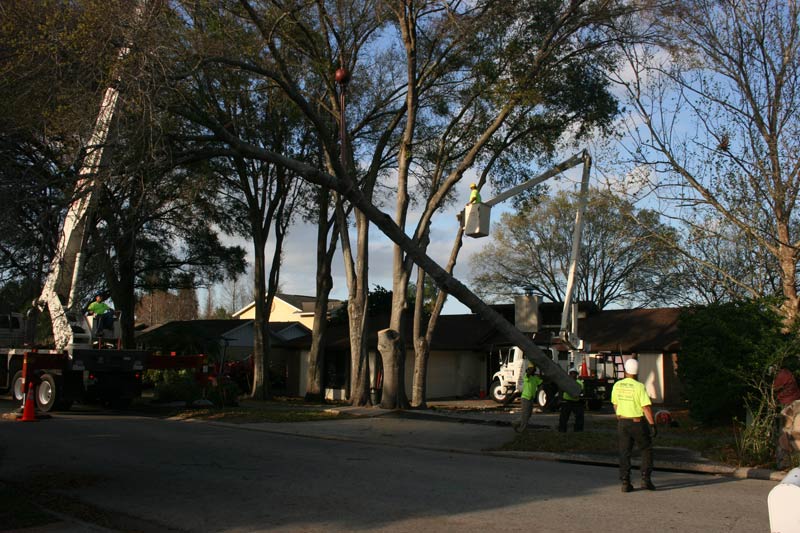 We Cover a Wide Service Area
Our service area reaches beyond Winter Park and Winter Springs. We serve all of Seminole County in Central Florida. From Sandford to Oviedo and Altamonte Springs to Geneva, you can count on us to deliver comprehensive tree care services that will improve the appearance of your home or business. Whether you have a single tree or an entire backyard of trees, we can get the job done quickly and safely.
Full-Service Tree Care from a Professional Team
When you need tree service, you want an experienced team to take on the job. You can't settle for subpar contractors that could put the safety of your home at risk. Tree care also isn't a do-it-yourself project, as proper knowledge is required to complete it safely. Instead of taking on this project solo, you need the experts at A Budget Tree Services to provide tree care you can trust. We know everything there is to know about trees and how to care for them, as well as the safest methods for trimming and removal. Call us for all of the following tree services:
Tree pruning and shaping: Regular pruning of your trees helps them grow stronger by improving airflow and sunlight penetration and removing any weakened branches. It also helps to shape the tree and ensure its structural integrity over time.
Complete tree removal: Weakened or poorly placed trees sometimes have to be removed from your yard. Our professional team can remove trees to enhance the safety and beauty of your yard.
Stump grinding: When a tree is cut down, a stump is always left behind. This can be an eyesore on your property and an inconvenience when mowing or enjoying your backyard. A Budget Tree Service can complete stump grinding to thoroughly remove stumps from your property.
Emergency tree services: Strong storms can blow over trees, causing them to land on cars, homes, or other structures. In these cases, you need the help of a tree professional right away. Our team is always available to handle emergencies and get your tree cleaned up.
Using the Right Equipment to Get the Job Done
As a family-owned and operated business, customer service is very important to us. That's why we only hire the best to join our team. Our company consists only of trained and experienced arborists who are committed to providing a high level of service to our customers. We are a member of the International Society of Arboriculture and have the knowledge to care for the particular types of trees in Central Florida. In addition, every member of our crew is outfitted with proper equipment to complete pruning and removal jobs safely and effectively. This ensures we get the job done right the first time. And on top of all that, we work to keep costs low. We know tree removal isn't always in the budget, so we keep our services affordable, allowing you to get the tree care you need without breaking the bank.
Additional Services to Improve Your Home
At A Budget Tree Services, we're more than just a tree care company. We also provide other services to help you improve your property and curb appeal. Has your yard been littered with tree branches, leaves, and other debris after a storm? We can help with our debris removal services. Do you have a lot with full vegetation growth that you want to clear for construction? We have the team and tools for that, too, offering land clearing services to prepare your land. We also sell firewood for use in your home's fireplace or backyard firepit.
Contact Us for Tree Service
We are the only team you should call when you need tree service in Winter Park or Winter Springs, FL. With more than 35 years of experience under our belt, A Budget Tree Services has the expertise to get the job done safely, whether it be pruning or removal. We can provide you with a free estimate for our service once we inspect the job site and determine your tree care needs. Contact us today to learn more about our services or to schedule an appointment.
Making Neighborhoods Beautiful One Tree at a Time